Tangled Matted Hair? Do Not Fear - How to untangle matted hair
Tangled Matted Hair? Do Not Fear- 
Using the
Kizaia Ultimate Hair Remover Detangler
Cream is a healing hair movement that has picked up speed among hairdressers and matted hair clients alike.
It is all set to help people with permanent matted tangled hair problems. The detangle techs using the
Kizaia Ultimate Hair Remover Detangler Cream
through their unique techniques have already started making a change in the lives of many. Matted tangled hair needs expert intervention with an excellent product that works on every head-every time.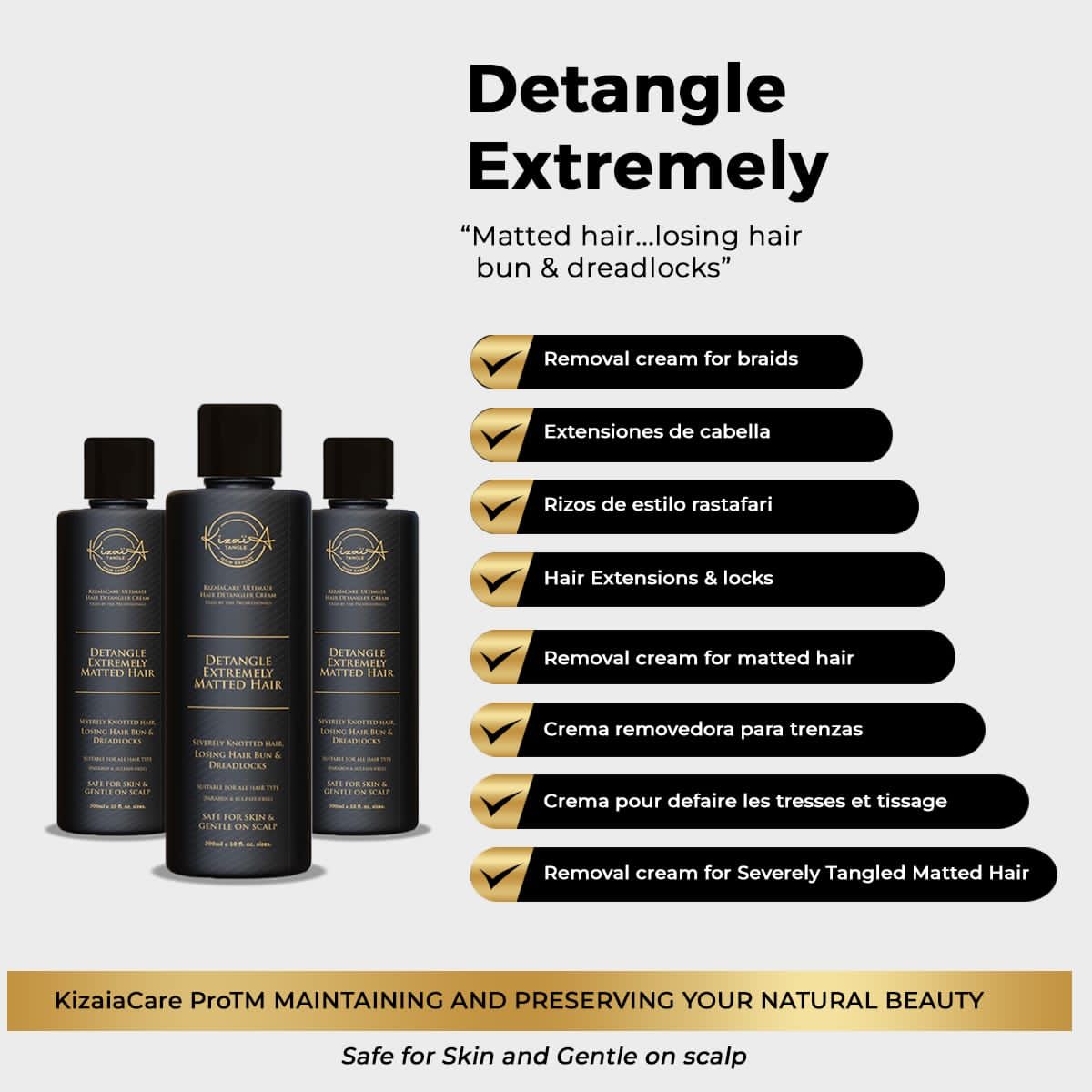 This is important because  if any other method is followed to detangle hair- there is a very good chance that the matted tangled knots in hair will get worse, damaged or spread in web strength across the whole head. Then a real dreadlock remover product will be needed.
The international Tangled Hair Techs are  professional hair detanglers service known for expertise by using hair detangling products like the Kizaia Ultimate Hair Remover Detangler Cream. They provide complete solution to the issue through this quality detangling products.
Now they are expanding their services to newer locations. Apart from fixed services, they have started mobile hair detangling service for patients who are admitted in hospitals or residential centers.
Professionals who want to work at the prestigious service can apply for hair restoration jobs.
Untreated matted hair may look like rat's nest. Reasons for matted hair could be many.
Some of the commonly observed reasons could be chemically treated hair, unattended hair or hair sew-in procedures.
Many people do not give much importance to the matted hair at the beginning stage. I
n most of the cases, matted hair can be corrected at the early stage especially when using the Kizaia Ultimate Hair Remover Detangler Cream.  Apart from common persons, many elderly people suffering from chronic disorders face this problem. Untangling matted hair for such patients will be a daunting task as they don't cooperate properly.
Majority of the beauty salons do not attend matted hair problem as it takes hours and they are not trained in the detangling techniques using the Kizaia ultimate remover products. Apart from that, de matting requires lot of patience, persistence and faith.
One should pose strong faith on the de matting product Kizaia ultimate remover cream and most importantly on self. People who have strong will power can overcome matted hair problems.  
Tangled hair tech Beauticians and hair experts offer number of solutions to this issue. But majority of these suggestions or tips or products do not offer complete solutions and requires lot of patients, time and money. 
The Kizaia Ultimate Hair Remover Detangler Cream is one product that offers 100% solution to the tangled matted hair.


Using the Kizaia Ultimate Hair Remover Detangler Cream for de matting matted tangled hair is the best technique for hair detailing services.   Untangling matted hair is one of the toughest and always possible tasks when using this amazing product. This is one of the strongest believes by number of people who suffer from matted tangled hair problem. Up to some extent the belief is true as it requires expertise hair professional assistance and world class products that can untangle matted hair. For more details on hair detangling service techniques using the Kizaia Ultimate Hair Remover Detangler Cream products 


Using the Kizaia Ultimate Hair Remover Detangler Cream creates a bond with the helper: 

Loosen your hair and loosen your mind:In all honesty, as you loosen your hair, you detangle your mind. A depressed person may have so many issues clogging up their brain and life and detangling something as difficult as matted; tangled hair can help too.
Did you know that the mind is like a web of hair strands knotted together? So literally you can detangle your hair and your mind too.

Start feeling alive and worthy:As you detangle your hair, the process makes you feel alive and worthy of yourself. You are open to the chance that you can make something so hard seem easy and beautiful. You begin to gain control of your emotions as something that can be understood and tamed. This feeling can drastically help reduce depression.
order yours now at www.kizaia.com
---