Shield Your Hair With 11-in-1 Multi-tasking Treatment
That Use 11 Benefits to Restore & Protect Your Hair
Hair care is important for not only our appearance, but also for our overall hygiene. Having healthy hair allows us to look our best and ensure our hair and scalp is healthy. It is important to visit a reputable salon and utilize quality hair care products to ensure your hair is as healthy as possible.
Bundle Of 3 Bottles
Ultimate Hair Remover Detangler
The product removes and detangles all types of very matted tangled hair textures, dreadlocks, braids, fusion/glue extensions, twists, weave hairstyles, and hair bonding glue. Take down remover cream re-model to be more friendly to your scalp and gentle on your skin.
Order Now
KizaiaCare Ultimate
Ultimate Hair Deep Moisturizing
A combo gentle cleanser that can rid the hair strands of build-up adding more bounce to your curls. The formula is lightweight, but since it contains coconut oil, it still packs a lot of moisturizing power. Even dry hair will have more shine and luster.
Order Now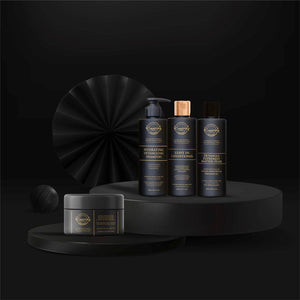 How it all started!
It all began when seeing and hearing about depressed adult women and little girls crying from their hair being matted to scalp, dreadlock, matted tangled filled with knots, and clumps of birds nest tangles had no solution. They were judged negatively by friends and family, while also being judged/ rejected by their own stylist and hairdressers.

It was then Kizaïa Products was created with the goal of offering AMAZING gifts to all women with hassle of how to detangling their matted hair and avoid to cut it.
Here at KizaiaCare Pro™, we offer you the great and innovative products on the market! KizaiaCare Pro™ has become a developing client centered brand, with clients all around the world.

The KizaiaCare Pro™ team is a group of highly experienced technicians from diverse backgrounds who, just like you, enjoy putting smiles back on your faces.
We've assembled a product that is constantly working to solve all kind of matted tangled dreadlocked hair problems; also we have put together list of other favorites Product or gadget that you would need & enjoyed.

Our goal is to provide the very best products that advanced research and innovative thinking can offer, and always with an eye toward advancing hair technology.
We regard hairstylists with the highest respect and constantly seeks successful solutions to their calls for help with assistance from our technologically advanced research center.
KizaiaCare 11-in-1
Leave-In Treatment Spray
This is our amazing creation with 11 benefits that your hair needs after going through all the tangle, matted, knotted, buns, glue, and other products that have been damaged.
Kizaia 11 in 1 leave-in conditioner will primes your hair for heat, detangles on a daily base also will add shine from root to tip of your hair. These are just a few of the benefits of the Kizaia 11 in 1 leave-in conditioner.
One spray releases rich nourishment
Shop Now
Ultimate Hair Detangler Aluminium Heat Cap
For Hair Detangling Purpose
1 KizaiaCare Ultimate Hair Detangler Aluminium Heat Cap for professional hair detangling purpose
Shop Now
Everything you think you know about
Detangling cream, shampoo and conditioner is a lie.
Talk to our consultant today via our chat section to get free recommendations
No detergent, no dryness, no sulfate & no paraben
Detergents in detangling shampoo strip your scalp and damage your hair.
KizaiaCare Pro™ detangle & cleans without detergent, sulfate or paraben giving you a healthy, balanced scalp
Detangling Solutions for every hair type
Whether your hair is thick, straight, curly, or coloured, to KizaiaCare Pro™ has you covered! Search our reviews and see what customers with your concerns are saying.
More time between washes with less tangle worries
Switching to KizaiaCare Pro™ allows your hair to return to its normal cycle of oil production.
This resulting in less grease and fewer wash days use our care products to give your hair back the strengths it needs.
As Featured In
I had my dreadlocks on for about 18 months, I don't really like the idea to cut my hair. I was going through Youtube then I was the KizaiaCare Ultimate Hair Detangler Cream in Action, I said this is one fake product to get your money. I concluded too fast, I was wrong. This product is magic after I bought a bottle to test on small portion of my hair "WOW" I recommend KizaiaCare Ultimate Hair Detangler Cream.

Cherry
My Hair was extremely tangled with knots and all in a giant bun for over 10 months. The salon told me to cut it all out I was so scared & worried to loss all the hair on my head. I took to google and found this amazing product called KizaiaCare Ultimate Hair Detangler Cream. I bought 2 bottles to test and it started giving me hopes, went online again and bought more, delivery was fast. Today I feel so uplifted as I have my hair back without having to cut it all out

Danielle M
I love this product KizaiaCare Ultimate Hair Detangler Cream and have been using it for years. Love the consistency and the smell. I love how I can detangle the curls in the shampoo process which decreases tangle during the whole process. It also Rinses well which is important because my daughter has low porosity hair. It has a great smell

Stephanie R
I recently bought this shampoo on impulse at a professional beauty supply store for licensed cosmetologists because my highlights were getting very tangly. I regularly shampoo my hair with (Moroccan Oil Smoothing Shampoo detangler). Since my hair got severely knotted I could not use my regular Moroccan Oil Smoothing Shampoo detangler. I am so happy to have found this KizaiaCare Ultimate Hair Detangler Cream now my hair is soft, shiny, and voluminous without the frizz. This Detangler has the perfect balance of everything.

Chelsea
I am somewhat of a product ****, I have used Carol's daughter, Mielle Organics, Mizani, Paul Mitchell, Design Essentials, Leonore Greyl, Bumble & Bumble, and Takedown Remover cream the list goes on and on. This by far is the best detangler ever KizaiaCare Ultimate Hair Detangler Cream. I used to purchase it my local Sally's store for licensed cosmetologists but they out of stock.

Julie
I watched your youtube video saw a woman used this product KizaiaCare Ultimate Hair Detangler Cream. & it worked. As a muslim I was now concerned if the product does not contain any animal part in it then, after contacting customer service I told its all vegetal its even more perfect. I got the bundle of 6 bottles few days later my hair are back to normal

Halima
My mother loves it, my aunt loves it, I need it in my life! This KizaiaCare Ultimate Hair Detangler Cream is our favorite ever!

Rochelle V.
Condition Dry & Oily Hair, Frizzy, Knotted & Tangled Matted Hair, Fine, Thick & Thin Hair, Damaged
Diamond Edge Leave-In Marula Oil Volume Nourish Spray Hair
Efficacy: Smooth and moist, repair dryness, improve hair brightness, heat protection, lock color, easy to comb, and easy to take care of
Solve your hair issues: hair dry, knotted, rough frizzy, dye ironing damage, color fade, broken hair.